Best New Home Features for Rio Grande Valley Homes
Your home should be your haven. It's the place you go to escape stress and pressure, and be with the people you love. A new home should feature details that enhance your life and surround you in luxury! These are some of the best new home features for homes in the Rio Grande Valley.
Energy Efficiency
Energy efficiency is much more than just saving money on an electric bill! An energy efficient home utilizes energy star appliances, energy efficient heat and air conditioners, programmable thermostats, modern windows, and energy efficient insulation.
Energy efficient windows alone can cut heating and cooling costs by up to 12 percent! Energy star-certified appliances may save you up to $200 per appliance during the appliance's lifetime.
However, the benefits are more than just monetary! Overall, an efficient home is also a healthy environment for your family. You will be protecting the environment, as well, by using fewer natural resources. Modern home owners recognize all the benefits of energy efficiency, and want to conserve resources in their day-to-day lives.
Outdoor Living Spaces
Backyards are not just for pets and kids! Modern home owners look for an outdoor space to relax and entertain. Enjoy evening barbecues cooked in an outdoor kitchen. Many new homes include a pool area. Take the time for a swim, or to relax poolside.
Entertain friends and family in a spacious outdoor dining or seating area, whether it is a patio or deck. Utilizing the outdoors means increasing space for enjoyment!
Attractive landscaping is also a part of the package. To many new homeowners, a well-groomed yard, and professional landscaping is a must. Add outdoor lighting to make a safe, welcoming environment.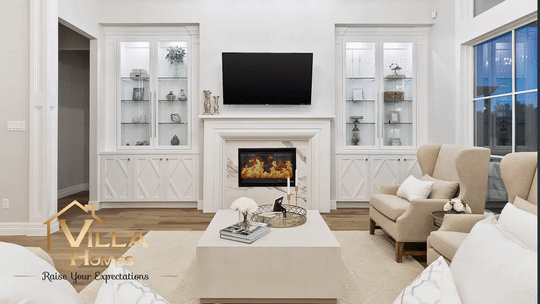 Open Concept Living
Open floor plans have been around for a while. However, today's homeowners truly value a wide, open living space! Studies have found that an open concept home increases social interactions within the home. Open floor plans also allow for easy transitions from one space to the next.
Home Cinema
A dedicated home theater, complete with a big screen, theater seating, and a state-of-the art sound system should be on every new homeowners wish list! Whether you are a movie connoisseur, a sports enthusiast, a serious gamer, or a family looking to unwind, a home cinema is the perfect way to enhance your lifestyle.
A home cinema should be cohesive with the design of the home. Extra insulation and sound-proofing are a great way to make sure the theater is not disruptive to the rest of the home. Add custom lighting, and you have a great space to increase enjoyment and value in your home.
Villa Homes offers a state of the art, customizable home theater option in all our new homes!
Walk-in Pantry
Limited kitchen storage is a thing of the past! Most new, luxury homes come with fully equipped kitchens, including a walk-in pantry. This type of pantry allows for easy access to food, equipment, and appliances while keeping the kitchen clutter-free.
Ample Closet Space
Storage is key! A spacious, well-appointed closet makes all the difference between organization and chaos. Most new home owners are looking for lots of closet space, including walk-in closets in the bedrooms.
At Villa Homes, we recognize the need for ample closet space. Beautifully designed bedroom closets include shelves, rods, and drawers for all your clothing storage needs. There are many other spacious storage options throughout each floorplan.
Panoramic Views with Natural Light
Let the outdoors in! Large windows allow for sunlight year round. It's an added bonus if the windows allow for a countryside view! Many new homes, especially new homes on spacious lots, include large windows with a panoramic view of the landscape.
Formal Dining Areas
Formal dining areas were considered old fashioned, but they are trending again! A formal dining room should feel polished and elegant. It is a special place where loved ones can gather to share a meal.
Modern dining rooms don't feel old-fashioned and stuffy. They feature impressive lighting, bold colors, and statement furniture. They are a space to entertain guests in style!
At Villa Homes, we offer all of these amenities and more! Contact us today! We'd love to help you on your journey to the home of your dreams.